Dust Extractors
RP250YE / RP350YE
RP250YE

RP350YE
Compact & Lightweight
Approx. 87% * volume and approx. 89% * weight of the previous model with the same tank capacity.
A comparison between the model RP250YE and the previous model WDE3600M.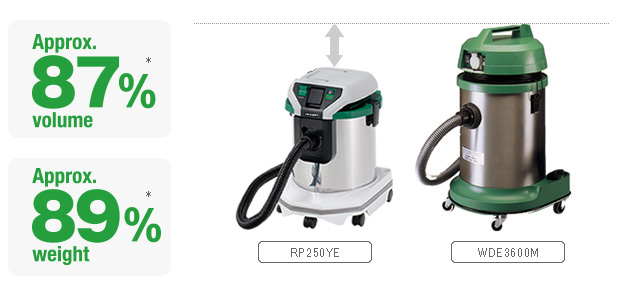 Interlocking Electric Outlet 2,400W *
Equipped with an interlocking electric outlet.
These dust extractors can be connected with power tools consuming not more than 2,400W, including dust collection circular saws and miter saws.

Interlocking electric outlet 1,700W for UK, 1,200W for Australia.
Large vacuum switch for improved handling
Mode selection switch (Auto / Manual)
By pushing "A" (Auto) this appliance can be operated and stopped by the operation of the power tool connected.
Wide master nozzle
Approx. 20% wider than the previous models' *
for increased work efficiency.

In comparison with WDE1200M/WDE3600M.
Compatible with commercially available poly bags
Large poly guide for easily attaching a poly bag.
Compatible with commercially available poly bags,*1
allowing for quick and easy dust disposal.

Use 45L (800 x 650mm) poly bags with not less than 0.04mm thickness.
In comparison with the previous models WDE1200M/WDE3600M.
Convenient pipe holder
Allows for easy storage of the pipe by hooking the pipe hanger onto it during intermission of operation.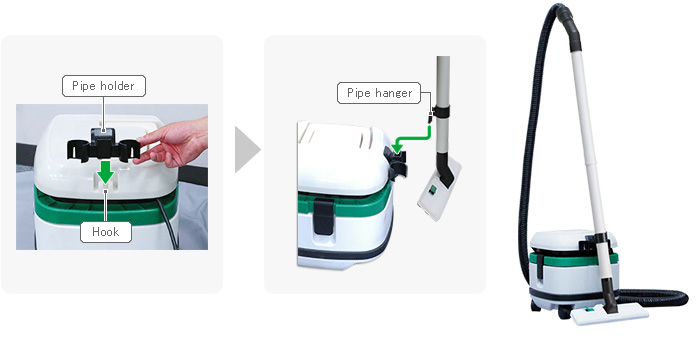 High-quality hose
More durable and flexible. Allows for comfortable handling due to less contraction during operation.*

In comparison with the previous models, WDE1200M/WDE3600M.
Flat top
The handle can be folded for the flat top.
Casters with stopper
Two casters with stopper retain the appliance for easy transportation.
Specifications
Model
RP250YE
RP350YE
Capacity
Air Vacuum
22kPa
Air Volume Flow
3.5m3/min
Tank
Material
Stainless Steel
Effective Dust Volume
Dry
25L
35L
Wet
22L
30L
Power Input
1,140W
Insulation
Grounded
Interlocking Electric Outlet
100 to 2,400W (100 to 1,700W for UK/100 to 1,200W for Australia)
Dimensions (W x D x H)
390mm x 469mm x 550mm
(15-3/8" x 18-15/32" x 21-21/32")
390mm x 469mm x 665mm
(15-3/8" x 18-15/32" x 26-3/16")
Weight
9.4kg (20.7lbs.)
9.7kg (21.4lbs.)
Standard Accessories
Standard Accessories
Hose (id 38mm x 3m long)
Pipe
Joint
Handle
Master
Nozzle
Crevice
Nozzle
Wet
Nozzle
No. used
1
2
1
1
1
1
Standard Accessories
Round Brush Nozzle
Joint (D)
Adapter
Poly Pouch (10 pcs.)
Pipe Holder
Pipe Hanger
No. used
1
1
1
1
1
1